Before the Illinois High School Association created the state playoff format for football in 1974, the 1969 Christian Brothers team was arguably the best in school history.
The Raiders finished 8-2 that season, ending on a five-game winning streak in which they outscored opponents 193-51. They scored a season-high 61 points in a victory over Providence, and they concluded the season with a 36-19 victory over a Hannibal team that came in with a 7-2 record.
The team lost 8-7 to Staunton and 8-0 on the road to a Pittsfield team that allowed just one touchdown that season and was in the middle of a 64-game winning streak. The game was played in a torrential rainstorm, and the game ended with the Raiders at the Saukees' 8-yard line and the game official ruling that time had ran out before a timeout could be called.
The Raiders had more than double their opponents in yards gained and first downs, and they had 22 interceptions in 10 games. Six members of the team went on to play college football. Harold Smith, the team's most valuable player, went on to play at Northwestern. Jeff Jansen set a school record with 125 tackles (before setting another record as a senior with 166 tackles). Steve Wavering was an all-state running back after scoring 19 touchdowns and rushing for 1,518 yards.
"After graduating from St. Edward's College, I was blessed to be hired as a teacher and coach at Christian Brothers High School in, Quincy. As I reflect on my experiences in my first year teaching and coaching, I have come to the utmost appreciation for the school. The administration had two great men and educators — Brother Pius Kamphefner and Peter Schmit. The student body consisted of approximately 300 young men, backed by their responsible parents who had high interest in their sons' success. The student-athletes were willing and wanting to excel. "Raider Pride" became our motto. After two years as an assistant coach in basketball and football, I was entrusted by the administration to be the head football coach. Our coaching staff consisted of Schmidt, John Rodeman, Tom Deters and John Klemm. The players were the most competitive I have ever had the pleasure to coach. I can still remember the players, their positions, scores and stats, and even their names and numbers. In conclusion, I want to thank all those players and their parents, the student body, faculty and administration, the coaching staff and the entire Hall of Fame Committee for recognizing this team. " Coach Chuck Budde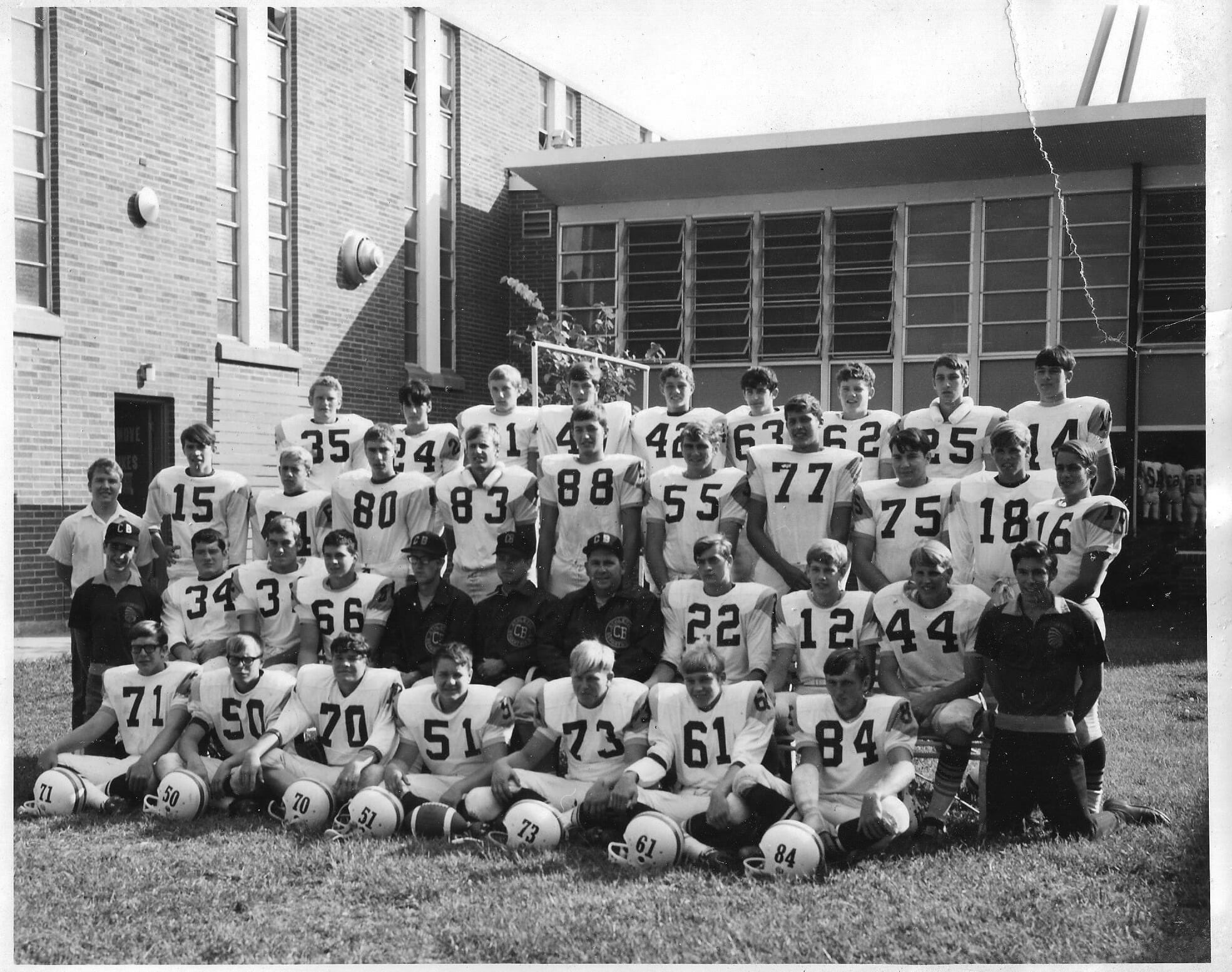 Front row from left, Ron Stegeman, David Bergman, Al Mast, Ed Hoffman, David Holtschlag, Carl Kemner and John Kroner; second row, Jeff Niekamp, Mike Padavic, Steve Wavering, Dennis Schwartz, Coach John Rodeman, Coach Chuck Budde, Coach Peter Schmit, Hal Smith, George Scholz, Joe Terwelp and Steve Wilson; third row, Dennis Cassidy, John Derhake, Pat Hibbeler, John Liesen, Bruce Miller, Roger Player, Kevin Krummel, Curtis Koch, Jim Hutmacher, Kevin Frericks, Kevin O'Donnell; fourth row, Rick Richmiller, Tom Ortbal, Jim Stegeman, Steve Ebbing, Matt Entrup, Dan Deters, Greg Morris, Jeff Jansen and Mike Zopf. Not pictured are John Klemm and Coach Tom Deters.