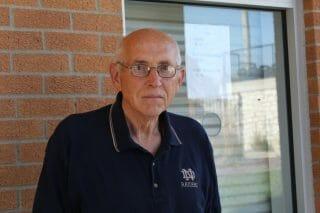 With five children participating in sports at Quincy Notre Dame, Zanger figured he would be at all kinds of sporting events for many years. So when he was asked by Mike Jansen to help take tickets at QND games, Zanger agreed to help.
Thirty-three years later, he's still helping take tickets at Raiders games. With 21 grandchildren, and several of them planning or already attending QND, Zanger figures he'll still be needed to take tickets for at least a few more years.
"I didn't know what (taking tickets) would entail besides getting into the games for free," he said. "I said, 'Yeah, I'll try it.' The boys already were playing ball. Over the years, I really have enjoyed seeing the players, coaches, students and families come through the doors."
He says he also enjoys catching up with old friends at the games while watching new players develop.
"It's interesting, watching some of the kids coming up as eighth graders and leaving after high school," he said. "I like to watch the kids, and I get to run into people who I went to school with, because their kids and grandkids are out there, too."
Zanger doesn't even want to guess how many games he's seen.
"I'm usually there for football and basketball because we need everybody for those games, but I like softball too because my grandkids are playing," he said. "I just show up and do my job. I'll keep doing it as long as my health is good. It's a pretty enjoyable thing to do."
Zanger, a 1965 Christian Brothers graduate, retired after 49 years at Titan Wheel and its predecessors, and he still lives in Quincy. He and his wife, Donna, have been married for 54 years, and they have five children — Eric, Jeff, Michelle, Jay and Angela.
"Thank you to the Hall of Fame Committee for including me as a member of the Class of 2019. It is truly a humbling experience to be mentioned with such a fine group of men and women. Catholic education has always been a priority for me and my wife, Donna. Our parents helped instill Catholic values in us at an early age, and we passed that tradition onto our children. Raising five kids and sending them to QND wasn't always easy, but we wouldn't have it any other way. From the fall of 1981 until the spring of 1996, we had a child at QND every year. I have many fond memories watching them participate in their sporting events and school functions that I will cherish always. I want to thank my wife and family for all the support over the years. I also want to thank Bill Connell, Eric Orne, Virgil Niewohner and Tom Alford."