A scoreless tie on Sept. 22 against Springfield Sacred Heart-Griffin left the 2005 boys soccer team with a record of two victories, eight losses and two ties. A winning record seemed to be impossible. It meant that the team would have to make a long postseason run.
One month later, the Raiders had pulled it off by finishing with a second-place trophy. They started the playoffs with a record of 7-11-3, but shutout victories over Greenville, Springfield Lutheran, Pleasant Plains and Rochester punched a ticket for the Class A state tournament in Naperville.
The Raiders defeated Morgan Park 4-1 in the quarterfinals, with Grey Genenbacher, John Roegge and Derrick Troyer scoring in the first half and Rodney Craven converting a penalty kick in the second half. Anthony Longo scored in the first half and Genenbacher scored in the second half in a 2-0 semifinal victory over Danville Schlarman.
The Raiders and Waterloo Gibault then played through two halves and four overtime periods without a goal in the championship game, and Gibault outscored the Raiders 5-4 in penalty kicks to claim first place. Notre Dame finished with a record of 13-12-3.
Genenbacher led QND with 15 goals, and Brian Doellman added 11 goals. Goalkeeper Kody Schuckman had just five shutouts in the first 21 games but allowed just one goal in seven postseason games.
"On behalf of the 2005 state runner-up soccer team, I would like to thank the Hall of Fame committee for bestowing this great honor on us. It was not always easy after a 2-8-2 start, but this team showed great resiliency in turning around a tough start against an unbelievably competitive schedule. Let the 2005 season be a reminder for everyone that it doesn't matter how things start, it's how you finish that really matters the most. Thank you to all of the players, parents, cheerleaders and fans that helped us along the way. Congratulations guys. Best of luck to all of you!" Coach Greg Reis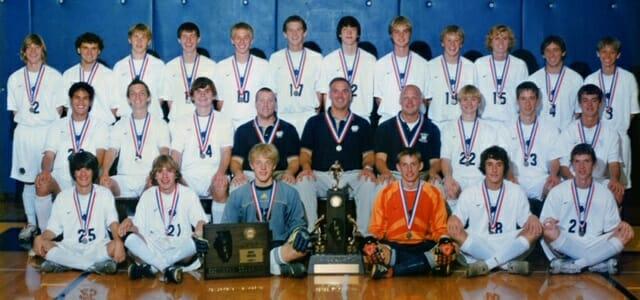 Pictured from left, front row, Mitchel Goodwin, Luke Veach, Kody Schuckman, Kody Gerding, Michael Lieber and Andy Tipton; second row, Derrick Troyer, Tyler Brumbaugh, Michael Costigan, Coach Chris George, Coach Greg Reis, Coach Jake Greving, Brian Doellman, Anthony Longo and Brian Buckley; back row, Even Reilly, Aaron Dieckhoff, Alex Terwelp, Zach Little, Rodney Craven, Grey Genenbacher, Josh Greenwell, Tanner Wittland, Justin McCarl, Chris Allen, John Roegge and Eric Riggs.