The 1985 boys baseball team is one of only three teams in school history to reach the semifinals in the state tournament, but because no third- or fourth-place trophies were given at the time, this team has no hardware to show for their excellence.
The Raiders relied on two solid starters — Todd Friye, who had a 10-1 record and 1.31 earned run average, and Eric Zanger, who had a 6-5 record and a 3.10 earned run average — to lead the pitching staff. They handled more than two-thirds of the innings pitched that season. Offensively, Eric Zanger and his brother, Jeff, both hit .467. Eric led the team in runs scored with 46, and Jeff led the team with 12 doubles, give homers and 46 runs batted in.
QND finished with a 26-8 record and a 5-3 mark in the Greater Midwestern Conference. After winning the regional, the Raiders knocked off Havana 10-0 on Eric Zanger's one-hitter in the sectional semifinal, then defeated Southeastern 5-1 in the sectional final on Friye's two-hitter. The Raiders beat Warren 5-1 at Springfield's Lanphier Park in the state quarterfinals, then lost 7-4 to Braidwood Reed-Custer in the semifinals.
"On behalf of the 1985 boys' baseball team, Coach Winstead and his family and myself, I'd like to say "thank you" to the QND Hall of Fame Committee for this honor. Coach brought incredible baseball knowledge, discipline and a "no nonsense" approach to the program. He wanted us to be successful and reach our full potential, not only on game day but also in daily practice. Coach knew that if we stayed focused and worked hard, great things could happen … and they did. We built upon the success we had in the 1984 season and took it to the next level in 1985. Blending a roster of talented returning veterans with a sprinkle of talented underclassmen, the Raiders reached their ultimate goal of playing in the state tournament. It was an amazing weekend and provided us with wonderful memories we relive to this day. Coach Winstead and the young men on the 1985 team revived QND baseball. Since then, the Raiders have become the premier program in West Central Illinois, and we are humbled to have been a part of the success. Thank you for this ultimate honor." "Raider Pride Never Dies!" – Assistant Coach Lonny Lemon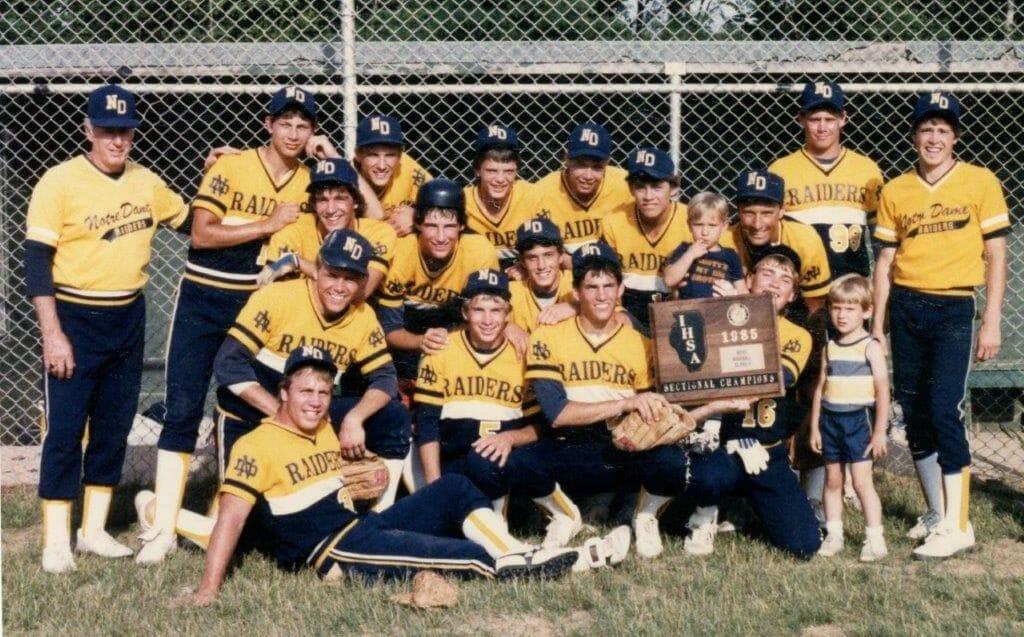 Pictured from left, front row sitting, Rich Hinkamper; front row, kneeling, Jim Goerlich, Todd Friye, Eric Zanger, Mike Long; middle row, Mike Monaghan, Jeff Zanger, Dave Effrein, Chris Obert, Russ Gengenbacher; back row, head coach Bob Winstead, Mark Thomas, Nick Meyer, Carl Cook, Chris Klingele, Mark Kuhlman and assistant coach Lonny Lemon. Not pictured: Jim Sohn.