The 2010 girls soccer team started a run of dominance that hasn't been matched in the state, winning the first of five Class 1A state championships in the decade.
The Raiders finished with a record of 24-2, losing only to Chatham Glenwood and Divine Savior out of Milwaukee, Wis., and they allowed just 10 goals and posted 15 shutouts during the regular season. QND defeated Springfield Lutheran 7-0 and Pleasant Plains 5-1 in the Class 1A Williamsville Regional, and then knocked off Alton Marquette 7-0 and Columbia 4-1 to win the QND Sectional. Two more shutouts were pitched at the state tournament with a 1-0 victory over Rockford Lutheran in the semifinals and a 2-0 victory over Manteno in the title game.
Senior Leigh McLaughlin led the team with 27 goals and 12 assists, while sophomore Shannon Foley added 24 goals and 15 assists. Jordan Frericks contributed 15 goals, and senior defender Alex Reis had 10 assists and anchored a defense that allowed just 12 goals all season.
"On behalf of the 2010 state champion Lady Raiders soccer team, our coaches, trainer and parents, thank you for voting us into the QND Hall of Fame. We are honored to be part of the great QND athletic history. Our first state championship! What a fun and exciting season. A huge thanks to our players for all their time and effort and to our parents for their support throughout the year. Thanks to the greatest trainer QND has ever had, Jay Zanger. Special thanks to assistant coaches Randy Struck, George McDonnell, Jason Keller, and Anthony Longo for their expertise. I'm sure we will enjoy getting back together and talking about the 2010 season. RSKA!" – Head Coach Mark Longo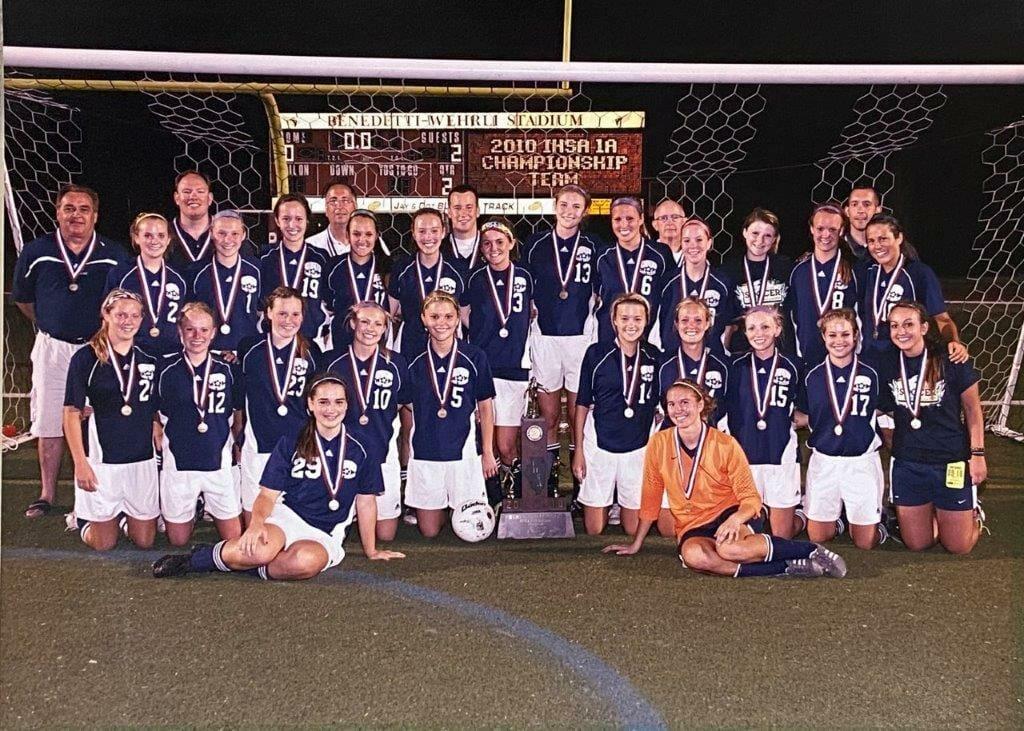 Pictured from left, front row, Quentessa Keating and Megan Rabe. Second row, Leigh McLaughlin, Shannon Foley, Lexi (Niemann) Kirner, Brooke (Dreyer) Ebbing, Jamie Pyatt, Brooke Burgess, Lexi Dreyer, Hilary Hoffman, Sam Hall, Kayla Struck. Third row, McKenna Murphy, Abby Grawe, Paula Holm, Hannah (Witte) Cramsey, Alyssa Klene, Alex Reis, Jordan Frericks, Kate Genenbacher, Katie Hancox, Mackenzie Little, Leah (Waterkotte) Ley, Claire Obert. Fourth row, assistant coach Randy Struck, assistant coach Jason Keller, head coach Mark Longo, assistant coach Anthony Longo, assistant coach George McDonnell, trainer Jay Zanger.