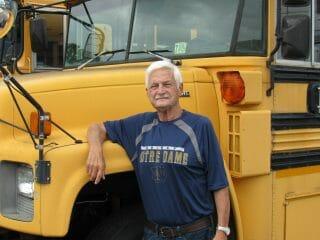 When fans of Quincy Notre Dame's athletic teams get to enjoy the facilities where the games are played, few of them realize that the Raiders are playing on what was once a city dump. Many people were responsible for raising the money and getting the wheels in motion to transform the property at 10th and Jackson to a beautiful complex that is the home to QND athletics, but one person was primarily in charge for coordinating the maintenance of all of it.
Rich Reis was hired in 1980 to work in maintenance at Quincy Notre Dame. When Ray Heilmann was named the assistant principal at the school in 1982, one of his first decision was to put Reis in charge of maintenance. They had previously worked together on a crew that did concrete work during the summer of 1976.
"Ray came in one morning, called me into the office and said he wanted me to take over maintenance," Reis said. "I said I didn't want to do that. There were all these other guys who had been there longer, but Ray said, 'I don't want them. I want you to take it over.' I kind of hesitated, but I did it."
Reis' hands touched anything involving maintenance of QND's facilities — preparing locker rooms or officials' rooms, lining a field, mowing the grass, drying out a muddy field or cleaning the bleachers. The football/soccer field once ran east-west on the school property, and when the decision was made to create a field that ran north-south, Reis and his crew were the ones who poured the concrete for the new bleachers to be installed. He also supervised the crew that built the dugouts on the baseball field more than three decades ago.
When the school needed people who could drive a school bus to take a team to a game, Reis was one of the first ones to help. When millions of dollars in physical improvements for the school were made, former executive director John Spring made Reis his go-to person on all the renovations and new additions.
"I don't know in my 39 years that I ever came across anyone who was so involved in so many areas of the school," Heilmann said. "Some people just do their job. Rich was the type of person who if he saw something, he worked on it, whether it was his job or not. His day would start at 6:30 and it often didn't end until 11 or 12 at night, and he never complained."
Reis retired in 2018. He lives in Quincy with his wife Gayle. They have two adult sons and four grandchildren.
"I don't even know where to start. I want to thank my wife and my sons, who were very understanding about all of those late nights. And I want to thank everyone at Quincy Notre Dame. It was just such a family atmosphere. We all got along. There were times that I was ready to throw in the towel had it not been for a lot of the coaches and teachers. If a teacher needed something, I would go do it. I would put the roofs on their houses or work on their cars, but I didn't mind. We all worked together. It was just one really big happy family."