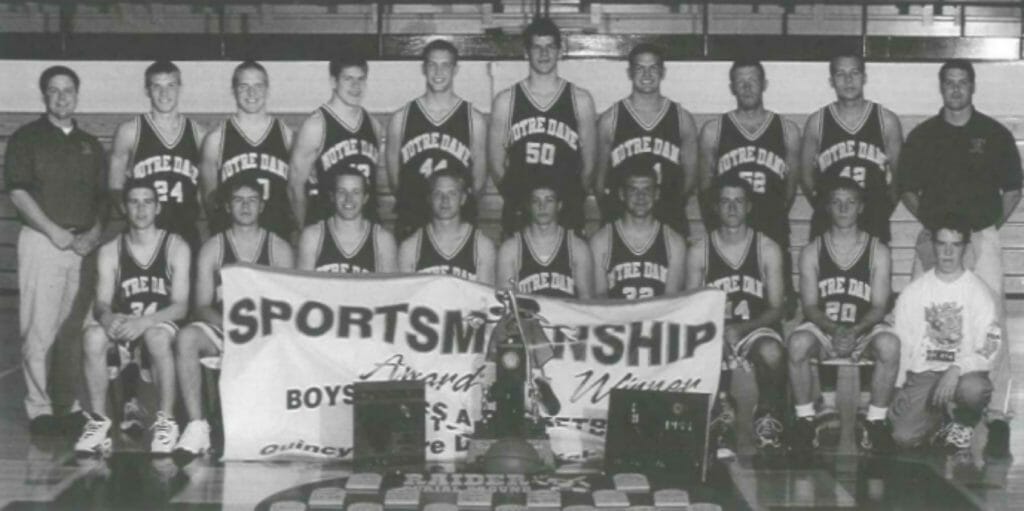 Before Scott Douglas was hired as coach before the 1996-97 season, the QND boys basketball program had gone through back-to-back 10-win seasons and had posted losing records in four of the past seven seasons. Douglas guided the Raiders to three 20-victory seasons in his first three seasons, but the program's turnaround was made complete when his 1998-99 team finished third in the Class A state tournament.
The Raiders stumbled out of the gate, splitting four games in their Thanksgiving Tip Off Tournament. Their last loss during the regular season was on Jan. 23, and then the Raiders ripped off 12 straight victories and were ranked No. 13 in the final regular season state poll. Among the memorable victories were a six-point win over Liberty in the regional final, an overtime comeback against Lewistown in the sectional, defeating unbeaten Warsaw in the sectional final and a four-point victory over Pittsfield in the super-sectional. 
The Raiders opened the state tournament with a 59-56 victory over Riverton. After losing to Waterloo Gibault in the semifinal, QND rebounded to defeat Plano 69-65 in the third place game and finish with a 28-6 record. 
All-Stater Brian McNeil led the team in scoring at 19.8 points per game, while Casey Tushaus and Jason Volm each scored 13.7 points per game. 
Team members were Adam Peters, Jason Volm, Kyle Frericks, Scott Ireland, Chris Fitch, Marty McGee, Arron Meyer, Kyle Venvertloh, Scott Brennan, Sam Stroot, Robbie Gully, Casey Tushaus, Brian McNeil, Mark Kamphaus and Eric Terwelp. Scott Douglas was the head coach. Bob Sheffield, Greg Altmix, Joe Obert, Kevin Meyer and Kevin Reller were the assistant coaches.