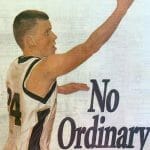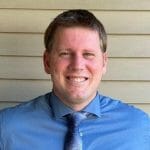 Joe Terwelp enjoyed one of the greatest careers of any basketball player in QND history, and he also was an accomplished baseball player, but no Raider ever had a weekend at the state basketball tournament like he did in 2004.
A 2004 graduate of Quincy Notre Dame, Terwelp poured in 27 points in a Class A quarterfinal victory over Pana, then scored 25 against eventual state champion Chicago Leo in the semifinals. He capped his weekend with 18 points in the third-place game victory over Peoria Christian.
Terwelp started his three-year career on the varsity by averaging 11.1 points per game as a sophomore, but his scoring average was just 11.5 points per game as a senior. However, he was surrounded by one of the most talented teams in school history by the time he was a senior, so he sacrificed points to concentrate on rebounding and defense. He finished with 1,070 career points.
At Monmouth College, Terwelp was a three-time all-conference pick, earning first-team honors as a senior. He finished with 1,110 career points, averaging 14.7 points as a sophomore, 16.7 points as a junior and 16 points as a senior. He scored 20 points in a game 20 times, and his career high was 38 points against Grinnell College.
Terwelp lives in Quincy and is an internal auditor for Town and Country Bank. He and his wife, Amber, have three children.
"First, I would like to thank my parents, Joe and Joyce, for all the sacrifices you have made and the support you have given me over the years. Without you, this induction would not be possible. To all of my other family members — brothers, sisters, cousins, aunts and uncles who I could always count on to be sitting up in the "Terwelp" section game after game, year after year — thank you. To my coaches and teammates, from fifth grade through high school, this induction belongs to you as well. Without our success on the diamond and court, I would not be here today. Thank you to the Hall of Fame Committee. It is a great honor for me to be considered, let alone being inducted with all the great athletes who came before me. I look back at my time at QND with such fond memories and experiences. I thank God for the opportunities he gave me during my time at QND. I'm thankful those same opportunities are available today, and will be in the future, so my children can some day attend Quincy Notre Dame as well. God bless, and Mandi Dickerman, class of 1993, rest in peace. We love you and miss you." – Joe Terwelp at 2021 Induction