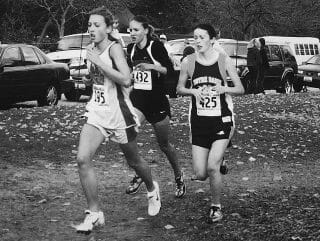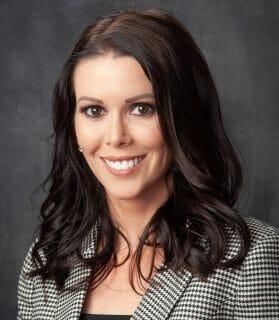 Quincy Notre Dame's fall sport offerings for girls were limited to tennis, golf and volleyball 20 years ago, forcing Edgar, an avid soccer player, to find a better option to keep in shape and competitive during the offseason. With the help of her father, Andy Edgar, as well as principal Ray Heilmann and athletic director Bill Connell, the inaugural season for girls cross country kicked off in the fall of 2000 with seven girls joining Edgar. Mark Longo, the girls soccer coach, lent the team soccer jerseys for their first meet.
Edgar was a three-sport athlete as a sophomore, balancing tennis with cross country in the fall. She finished fourth in the regional and 10th in the sectional, advancing to the state meet and placing 81st. Her training ramped up during her junior year when the boys cross country program started. She won the regional, was fourth in the sectional and finished third in the Class A state championship race at Detweiller Park with a time of 14:58 — the 10th fastest time in the IHSA's record book for the 2.5-mile course.
Edgar's senior year was the first year the team had actual running uniforms instead of t-shirts and soccer shorts. She placed third in the regional and second in the sectional, then placed fourth at the Class A state meet in a time of 17:59 (after the IHSA increased the length of the course to three miles).
She was an all-sectional soccer player in 2001 and 2002 and helped the Raiders play in the state tournament two times. A bout with mononucleosis prevented her from playing soccer as a senior. She also ran track as a senior, winning the sectional in the 1,600-meter and 3,200-meter runs. She was ninth in the 1,600-meter and fourth in the 3,200-meter at the state meet.
Edgar went on to become the first female QND alum to graduate from West Point. She competed in cross country and track, earning all-Patriot League honors in 2004 with her 13th-place finish. She was awarded the Kramer-Rumbaugh Most Valuable Runner Award in 2006.
Edgar has coached soccer and cross country, helping her father during his 17th and final year of coaching the QND program they started together. She is employed by Kohl Wholesale. She and her husband, Ryan, live in Sandy Springs, Ga. They are volunteer coaches at Blessed Trinity Catholic High School in Roswell, Ga.
"Thank you to the QND Hall of Fame Committee for this honor. Ray Heilmann and the Athletic Department, thank you for allowing cross country to be offered. I am grateful for my parents, Paula & Andy Edgar, for your love, support and guidance. Dad, you've touched so many lives in your years of coaching and truly filled a void in QND athletics. As an adult, I have embraced every opportunity to learn from your years of coaching experience and wish to pass those lessons on to my future athletes. Thank you for taking me under your wing. Mary Terwelp, you had such a positive impact on building our program with my father. Thank you. You inspired me with your 15 years of assisting and incredible core workouts (of which I enjoy integrating with my present athletes). Kerry Anders and Darrin Bishop of QHS, thank you for letting me be a part of your team. I will never forget how you and your runners cheered for us, and vice versa, showing we all are a Quincy family. It has been an honor to coach with and learn from you. I am forever indebted to the late Herb Wellman, the man responsible for seeing the potential in me as a future U.S. Army Officer. Thank you to the late Dick Tucker from Rushville for your kind words, support and guidance to my father and I during those early years. Thank you to Jeremy Koren for helping pave the way for boys cross country. I would not have been as successful without you as a training partner. I will never forget it. I pray our program never forgets its roots, traditions and identity."