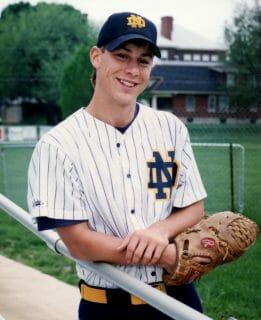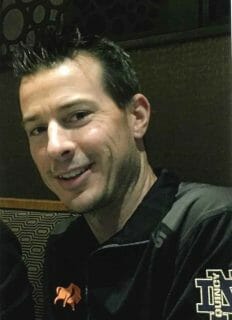 Before going on to become one of the best pitchers in Quincy University history, Blaesing was an outstanding two-sport athlete at QND.
Blaesing, a 1995 QND graduate, had a 5-4 record with a 2.47 earned run average as a senior, striking out 83 batters in 56 2/3 innings. He also was member of the 1993 soccer team that had a 21-3-3 record and reached the state tournament. His goal in the second sudden death overtime gave the Raiders a 1-0 victory over East Moline in the 1993 sectional final. Blaesing scored 13 goals and had 10 assists as a senior on a team that finished 14-6-3.
Blaesing played on the first two NCAA Division II Tournament teams in Quincy University history in 1997 and 1999, and he pitched in both tournaments. He had an 8-2 record and a 3.06 earned run average as a senior, throwing seven complete games, and was named to the all-Great Lakes Valley Conference team. He also picked off an amazing 17 baserunners. Blaesing had a 4-5 record as a junior and a 3-3 record with a 5.02 earned run average as a sophomore. He had a career record of 19-10, and when he graduated from QU, he ranked fourth in victories, eighth in earned run average, second in strikeouts and second in innings pitched.
Blaesing went on to play for three years for four teams in the independent Frontier League. He now is the general manager of Carl's Shoes in Quincy and lives with his wife, Jenny.
"When I received the news that I was going to be inducted into the QND Hall of Fame, I was surprised, humbled and thankful. So many talented and dedicated student-athletes and coaches have been at QND, and I'm grateful to be a part of this outstanding group. To the HOF committee, thank you for honoring me. One of the things I enjoyed most about playing baseball and soccer is the team aspect. In sports, as in life, better results usually are achieved with a team approach. I am thankful that I've been blessed with such a great team. To my parents, Ed and Carol, thank you for your time, effort, support and sacrifices that you made in getting me to all of those practices and games. Thank you to my brothers, Kevin and Chris, for all of their support. I had the fortune of playing for a lot of great coaches who, more importantly, were great people. I would like to especially thank my baseball coaches at QND, Lonny Lemon and Dave Fleer, and my Quincy University coach, Pat Atwell. Also, thank you to all of my teammates. Raider Pride encompasses not only athletics but also academics, and QND had no shortage of great teachers and leaders. In particular, I would like to thank Mr. Ray Heilmann, who is most synonymous with Raider Pride and all of the great qualities and values of QND. All of the great experiences I had at QND left a lasting impression and helped guide me through life. I also would like to thank my beautiful wife Jenny for her support."