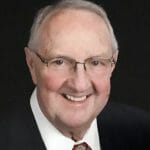 Bickhaus was the driving force behind Quincy Notre Dame's run to the single-class state baseball championship game in 1952.
He posted a record of 12-0 as a pitcher, and the Raiders only played 18 games that season, winning their first 17 before losing to Morton of Cicero in the state championship game. He started every game but two during the Raiders' postseason run. He was the winning pitcher in relief in one of the games, and state rules didn't allow him to pitch in the championship game.
Five of his victories were shutouts. Opponents batted .155 against him, and he had an earned run average of 0.78. He had a streak of 32 scoreless innings at the beginning of the season, and he didn't allow a run in 15 innings at the state tournament. He only walked seven batters all season until he walked five in the semifinal game at the state tournament — which he pitched after throwing seven innings the day before in the quarterfinals. He also batted .295 with 18 RBIs, playing in only 16 of the 18 games.
Bickhaus had a 12-2 record as a junior on the baseball team. The Raiders lost to eventual 1951 state champion Pekin 5-4 in 10 innings in the sectional. He also played three seasons on the basketball team and scored 483 career points. He went on to play baseball at the University of Illinois.
He was in engineering and general management with Carter Carburetor and Lucas Automotive for 35 years, then spent the next 10 years in management in the appliance industry. He was semi-retired and was in management consulting for 15 years with his brother before finally retiring. He and his wife, Jane, have been married for 63 years, and they now live in Chesterfield, Mo. They have five children, 15 grandchildren and 10 great grandchildren.
"This is quite an honor for me. I want to thank the Hall of Fame Committee for inducting me to receive this award. A special thanks goes to my family, who encouraged and supported me. My brother Ernie, a 2011 inductee, encouraged me and helped me with my athletic endeavors. Also responsible for my success were the ND faculty and especially my coach, Pete Affre. He always encouraged us to give maximum effort and to be true sportsmen. My thanks also extend to my classmates and teammates. The ability and tenacity of my teammates made it possible for our success and my honor here tonight. My gratitude extends to many people not mentioned who along with my time at Notre Dame made possible my success. These, along with those mentioned, certainly gave me life values that helped me to move on to the University of Illinois. I have been blessed with my wonderful wife, Jane, and a family and a successful career. My time spent at Notre Dame played a major part in my life."