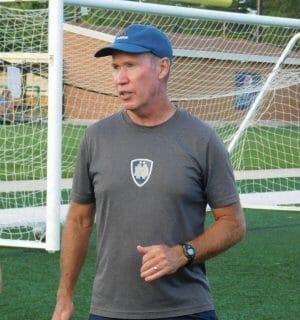 White quietly had one of the best seasons in the history of the Quincy Notre Dame soccer team, but he just happened to be overshadowed by two All-State players on the squad that season.
White, a 1979 graduate of Notre Dame, scored two goals during his sophomore season, then had 12 goals and six assists as a junior. White played a key role on the 1978 team that went 25-2 and fell one game short of the state tournament. He scored 24 goals, which ranks fourth all-time for a single season, and had 19 assists, which ranks third all-time for a single season. He's among the top 10 all-time for career goals and assists. He was named to the all-sectional team as a senior.
White went on to play at MacMurray College, an NCAA Division III school in Jacksonville, where he was a four-year starter. He finished his career with 16 goals and set the school's career assists record with 26.
White has been an assistant coach for the QND boys soccer team from 1996 to 2003 and from 2008 to the present. He was employed by the Quincy Fire Department for 30 years and achieved the rank of lieutenant before retiring in 2014. He lives in Quincy with his wife, Susan. They have two children and one grandchild.