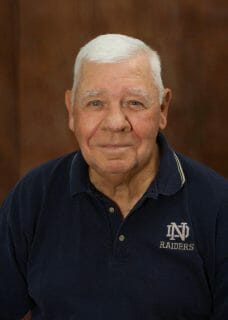 Schutte can't remember when he first started, and he's not sure how he got involved, but after 40 years of taking tickets and welcoming fans to games at Quincy Notre Dame, Schutte definitely isn't ready to stop volunteering.
"Well, I'm 76 now," he said. "Maybe I can get another 24 years in."
Schutte, a 1958 graduate of Central High School, ran track and played baseball and basketball at Central. However, he remembers coming to Quincy to visit his grandmother and enjoying a chance to watch games at Quincy Notre Dame or Quincy High School.
"During the holidays, there was always a basketball game or something," Schutte said. "I remember sitting up there in the coffin corner in the northeast corner of the gym."
Now he's on a stool just inside the front door of the school, punching tickets and visiting with people before they enter the gymnasium.
"I sorta enjoy it," he said. "Most everybody is pretty friendly. You don't have any trouble. It doesn't take long, and you know who has a ticket and who doesn't. I remember the good ol' battles with the Liberty boys in the 1970s and 1980s. I used to play against their dads, and now I'm welcoming them to watch their kids play."
Schutte was there with Judi, his wife of 42 years, to watch their sons Eric and Shane play when they were in school. Now that he's been retired for 15 years after a 36-year career with Burlington Northern Railroad, he doesn't plan to miss any of the games that his great niece and nephews will be playing as they get ready for high school.
"I still enjoy it. I'd find something else to do if I didn't," he said.