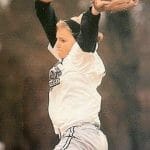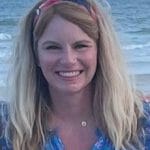 The Quincy Notre Dame softball program has had many outstanding pitchers, but none of them struck out more hitters than Erin (Moulton) Kimm.
Kimm, a 2001 graduate of Quincy Notre Dame, finished her career with 890 strikeouts. Courtney Bailey, who is second on the list, is more than 100 behind Kimm, and every other pitcher in school history is more than 300 strikeouts behind Kimm.
Kimm's 74 pitching victories were best in school history when she graduated and now rank her third in school history. She's also third in career complete games with 90. She tossed 26 career shutouts to rank sixth-best in school history. Her 698 career innings pitched and 115 career games pitched both rank second behind Bailey, and her 0.65 career earned run average is fifth best.
She recorded 26 victories in a single season to rank fourth all-time. Her 274 strikeouts in a single season ranks only behind Angie Grawe's 279. Her 18 shutouts in a single season is still a school record, and her 0.36 earned run average in 2001 ranks sixth-best in school history.
As a hitter, Kimm finished with 132 career hits and is one of 23 to have collected at least 100 hits in a career. She also is the school record holder with 34 sacrifice bunts in a single season. Kimm led the Raiders to a quarterfinal appearance in the Class A state tournament in 2001.
Kimm was a four-time Quincy Herald-Whig first team All-Area softball performer. She was a third team All-State selection in 2000 and a second team All-State pick in 2001. She also was a member of the volleyball teams that won the Class A state championship in 1998 and lost in the Class A title game in 1999.
Kimm first signed to play softball at Millikin University but later chose to play at Quincy University. She ranked third in career strikeouts, career starts, innings pitched and appearances for the Hawks.
Kimm lives in Chesterfield, Mo., with her husband Ryan and their two sons. She will begin taking classes at the Barnes/Jewish School of Nursing in January.
"Thank you to the Quincy Notre Dame Hall of Fame committee for the consideration and induction. It is an honor and a privilege to be a part of the Hall of Fame. It is something I will be a part of forever, and that is truly an honor. To my mother and father, there are no words to express how thankful I am for your support and love given while playing the beautiful sport of softball. The bruises on my dad's shins have finally faded from being my volunteer catcher while I practiced pitching. My mom is finally rested after driving me to and from practices and out-of-town tournaments. I truly appreciate all those sacrifices made now that I'm a parent and I'm constantly on the go taking my kids to practices and games. I also want to thank Coach Eric Orne and Coach Tracy Orne. You taught me so many great life lessons while playing the game — leadership, teamwork, hard work and accountability. Thank you for being there and always pushing me to be my best. These lessons have remained with me through my entire life." – Erin (Moulton) Kimm at 2021 Induction