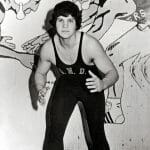 Only ten wrestlers in the history of Quincy Notre Dame have gone on to place at the state tournament. Frericks was the first.
Frericks, a 1976 graduate of Quincy Notre Dame, competed in the unlimited division in the Class A in 1976 and finished second in the sectional at Mount Olive to earn one of eight spots in the state finals at Assembly Hall in Champaign. He had the misfortune to draw Kaneland's Mike Jorgensen, the defending state champ, in the first round.
While Jorgensen won that first match and went on to win another state title, Frericks went into the consolation bracket, where he defeated Jim Eaton of Normal University High 2-0. He lost the third-place match 5-2 to Scott Stone of Bement. Frericks finished with a record of 22-7.
Frericks also played football, earning three varsity letters. He was a defensive and offensive lineman, and moved to fullback as a senior. He was a member of the 1974 team that finished 12-1 and reached the Class 3A semifinals. He played one year of football at Northeast Missouri State University.
Frericks and his wife, Denise, live in Lewistown, Mo. The have eight children and 14 grandchildren. He is the owner and operator of his own pest extermination business, NEMO Pest Control, in Lewis County.