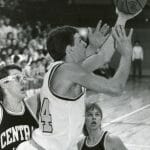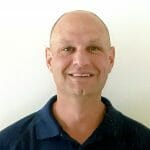 Schneider was one of the top players on one of the best Raider basketball teams in school history, and he went on to a successful college career as well.
Schneider, a 1989 graduate of Quincy Notre Dame, averaged 12.2 points and 6.9 rebounds for the raiders during the 1988-89 season. He was first-team selection to The Quincy Herald-Whig All-Area Team, and he helped the Raiders finish with a 21-9 record and a Sweet 16 berth in the Class A State Tournament. He was a fourth-team IBCA all-state selection and earned honorable mention on the Associated Press all-state team. He shared most valuable player honors on the Raider team that season.
He went on to Eastern New Mexico on Portales, N.M., for two years, where he averaged 3.6 points as a freshman and 1.8 points as a sophomore. He was a member of the Lone Star Conference all-academic team.
Schneider then transferred to the College of St. Francis in Joliet. Back spasms and three sprained ankles limited his impact during his junior season, when he averaged 6.3 points and 5.4 rebounds for the Saints, who finished 20-10.
As a senior, Schneider was named the NAIA District 20 Player of the Week. He led the Saints in scoring (12.0 per game), rebounds (7.7 per game), field goal percentage (.554) and free throw percentage (.792).
Schneider now lives in Quincy and is a firefighter with the Quincy Fire Department.