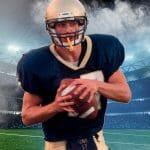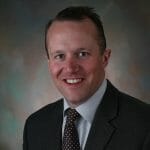 When the best quarterbacks in school history is discussed, Venvertloh's name is certainly on the short list.
Venvertloh, a 2000 graduate of Quincy Notre Dame, led the Raiders to three straight playoff appearances playing quarterback and safety. He is tied for the school record with four touchdown passes in a game and threw for 1,524 yards (third-best in school history) during his senior season in 1999 when he was named The Quincy Herald-Whig's Player of the Year. He finished with career totals of 2,802 passing yards (fourth-best in school history), 28 passing touchdowns (third-best in school history) and five rushing touchdowns, plus 133 tackles and nine interceptions as a safety. He guided the Raiders to 23 victories as a starting quarterback.
Venvertloh was also a three-year letter winner on the Raider basketball team. He led the team in assists as a junior and senior and was a member of the 1998-99 team that finished third in the Class A State Tournament. He made one of the most famous shots in school history during his junior year when he made a 3-pointer in the final seconds to force overtime against Lewistown in a sectional semifinal victory.
He went on to be a four-year letterman on the football team at Illinois Wesleyan. Venvertloh and his wife, Kimberly, are parents of son, John, and daughter, Mary Emma. He is the general manager of Quincy Recycle.