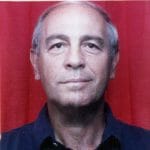 When asked how he got involved in becoming an usher and ticket taker for Quincy Notre Dame's home athletic events, Schuckman gave an answer that many others before him shared as well; because Virgil Niewohner asked me.
Niewohner, a 1992 inductee into the QND Hall of Fame, organized the ushers and ticket takers for more than 50 years. Schuckman was one of the dozens of men who spent decades assisting fans at Raider games. In Schuckman's case, he worked for 35 years.
"Once I started to go (as a ticket taker), I really enjoyed it," he said. "I liked helping the school and seeing all of the children and their parents. I made a lot of good friends over the years, and I really enjoyed working with Don Adolfs. I did it as much as I could, even after the kids were out of school. I enjoyed going to help when I could go watch my grandkids play, too."
Schuckman retired from the city if Quincy, working at the airport, and then from Sunset Home. He and his wife, Sally, are celebrating their 56th wedding anniversary this weekend. They have four children, Kevin, Kelle, Kraig and Kari. They have 15 grandchildren and eight great-grandchildren and two coming in 2018.