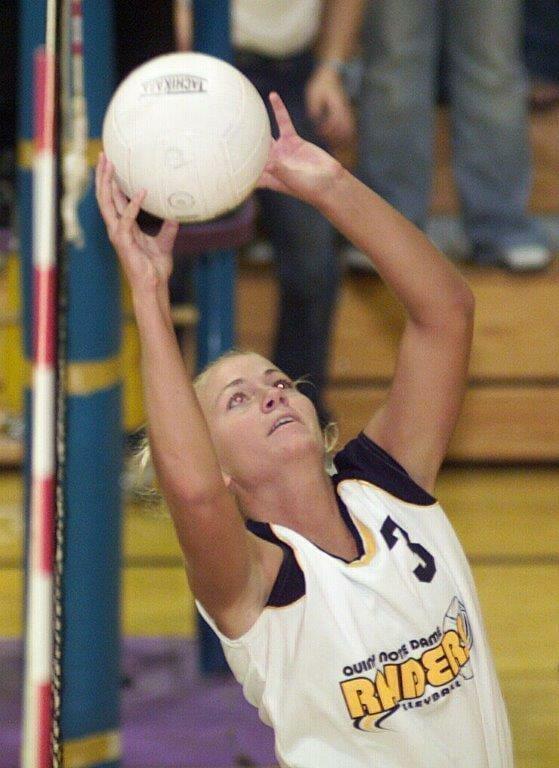 No conversation about the best three-sport female athletes in the history of Quincy Notre Dame would be complete without a discussion of Sara (Liesen) Markey.
Markey, a 2005 graduate, was the starting setter on the QND volleyball team for three seasons. She finished with 2,417 career assists, trailing only her older sister Beth in that category in school history, and was named The Herald-Whig's Player of the year in 2004.
"Sara was always diving crosscourt and picking up balls," QND coach Christine Stephens said after Markey's senior year. "She sacrificed everything, including her body, for our team, even if it meant diving into the stands."
Markey was a four-year starter on the basketball team and graduated as the all-time leading scorer in school history. She averaged 11.1 points as a sophomore and 13.9 points as a junior. As a senior, she averaged 19.5 points and 5.8 assists on her way to being named The Herald-Whig's Player of the Year. She led the Lady Raiders to a No. 1 ranking in the state and to the Class A super-sectional before they lost to eventual state champion Rock Island Alleman in her final game.
On the soccer field, Markey finished her career as QND's third-leading scorer with 92 goals. She started her career by scoring 20 goals and assisting on 18 others as a freshman for a team that reached the Class A state quarterfinals. She had 34 goals as a senior, recorded six hat tricks and helped the Lady Raiders win 14 straight games. She was named to the all-state team in 2005.
She was named to The Quincy Herald-Whig's All-Decade teams in all three sports.
Markey did not play sports in college and attended Eastern Illinois University. She and her husband, Richard, have a son, Mason, and live in Quincy, where she is a speech language pathologist at First Choice Physical Therapy.